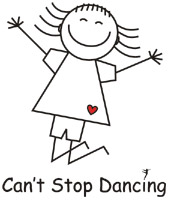 Well, I may be crazy for doing this, but I've agreed to add more classes to my schedule!  Oh, who am I kidding?  I can't get enough teaching dance.  Starting this September I'm going to be teaching more than ever before (and that's saying a lot!).  I'll be adding three classes for adults at a brand new studio downtown called Express Yourself Madison.*
All of my new Express Yourself Madison classes will be on Thursdays starting September 13th.  These are not drop-in classes.  You'll need to sign up for a 15-week session.  And at the end of the 15 weeks you have the opportunity to perform in the recital!
The classes below are linked to pages with more detailed descriptions.
5:30pm – 6:30pm Adult Beginner Ballet
6:45pm – 7:45pm Adult Irish Step Dance – The Other Steps
8:00pm – 9:00pm Adult Beginner Tap Dance
*Express Yourself Madison is located at 401 N Lake St, Lower Level.  Many of you have known that space as Dance Fabulous.  I want to clarify that Express Yourself Madison is in no way affiliated with Dance Fabulous. It's just a coincidence that my new studio moved into the previous location of my old studio.  Express Yourself Madison is not trying to copy or one-up Dance Fabulous in any way.  I would not have agreed to teach there if that was their M.O.  They are going to be offering kids classes and 15-week adult sessions in addition to drop-in classes.  But I hope you will find the staff and environment as warm, welcoming and free of judgment as Dance Fabulous was for so many dancers.