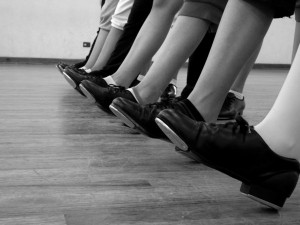 About Tap Dance with Heidi
Tap dancing is super fun! Beginners learn basic tap dance vocabulary and start putting their new skills into a routine over the course of the session. Advanced beginners work on a more complex routine with new moves or more advanced rhythms.
Dress Code
Students should dress to sweat (the dance studio gets quite warm) and bring tap shoes to class. I advise those purchasing tap shoes to get shoes that they can comfortably walk in on the balls of their feet or tip toes. You want shoes that can bend. We don't dance flat footed so you don't want shoes that have non-bendable soles!
Tap Dance 1.5 Workshop 
If you no longer need to start tap from scratch in Tap 1 because you have tap experience, but you're not feeling confident or knowledgable enough to dive into Tap 2 yet, then sign up for a summer Tap 1.5 workshop! Over the course of 5 weeks, we will work on switching between flaps and shuffles without confusion or the need for great concentration, clean rudiments at higher tempos, and consistency in Shirley Temple and Buck Single Time Steps. We'll also look at double and triple time steps to give you exposure to those.
Wednesdays, July 5 – August 2
7:45pm – 8:45pm
Kanopy Dance Studio (341 State St)
$35 for 5 weeks of instruction.
Bring Cash or a Check to the first class, or pay ahead of time online: